SERVICES FROM OUR COLONIA CHIROPRACTOR
Here at Colonia Spine & Wellness Center, we pride ourselves on offering a comprehensive range of holistic healing and pain management services. These various treatment methods all work together in a way that enhances each method's effectiveness, providing you with non-surgical solutions to many illnesses and injuries. Take a look at the safe, soothing techniques provided by our chiropractor serving Colonia, Edison, Woodbridge, Iselin, and surrounding areas.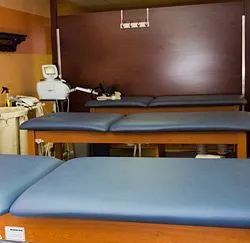 Chiropractic Care
Chiropractic care employs manual or instrument-assisted manipulations to help joints and spinal components return to their natural positional alignment. These adjustments can ease musculoskeletal aches and pains, improve your posture, reduce pain and other neurological symptoms, and improve your body's ability to keep itself well through proper nerve function.
Spinal Decompression
Back pain, neck pain, and extremity problems, such as neuropathy, can often be traced to a herniated disc that "sits" on a spinal nerve root, or to a bulging disc that has lost its height and now strains the spinal joints. Our non-surgical spinal decompression table can relieve these issues without the need for an invasive procedure. A special motorized table creates additional space between your vertebrae, bringing the problematic disc back into its normal position.
Pain Management Injections
Chronic pain caused by degeneration of the cervical or lumbar spine may call for treatment with injections. These powerful injections deliver analgesic and anti-inflammatory drugs directly to the source of your pain. Pain management injections can ease symptoms for months at a time, making them useful as part of your long-term pain management strategy.
Physical Therapy
Physical therapy can help you master chronic pain and stiffness, restore balance and strength to weakened muscles, increase your range of motion, and ease pain and inflammation the natural way. We tailor each physical therapy plan to the needs of our patients. Whether you're seeking to come back from a debilitating sports injury or you just want to stride through life with greater mobility and comfort, physical therapy can help you achieve your goal.
Acupuncture
Acupuncture is an ancient technique that still offers amazing benefits. The careful placement of hair-thin needles can prompt your body to release its natural pain-relieving substances. Acupuncture can also improve your nerve function, helping you get over many kinds of ailments. Our chiropractor works closely with our acupuncturist, Sun P. Yu (Sunny).
Learn More about Our Services at Colonia Spine & Wellness Center
At Colonia Spine & Wellness Center, chiropractic care is just one of the many services we provide for our patients in Colonia, Edison, Woodbridge, Iselin, and surrounding areas. If you're ready to learn more about how these services can help you, call 732-827-0028 today!